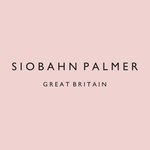 SIOBAHN PALMER
British Artist and Designer Siobahn Palmer began exhibiting her luxury, lifestyle and fashion accessories in 2012 after completing her Bachelors Degree in Surface Design with First class honours from Norwich University of the Arts, specialising in high quality, digitally printed Silk Scarves. Today, Siobahn continues to gain global notoriety as she draws inspiration from her beautiful surroundings in East Anglia and her travels to create original artwork, premium quality printed textiles and luxury fashion accessories which are all designed, created and finished in Great Britain. Since graduating Siobahn has successfully worked and collaborated with companies from around the world, such as Anthropologie UK & USA, Front Row Society Berlin, Neon Trainers UK, British clothing brand Colvmns and American clothing brand VIDA Voices. Siobahn's artwork and various printed textile products are currently being sold internationally, from small independent boutiques to large, luxury department stores and Art Museums such as Selfridges London, KaDeWe Berlin, Galeries Lafayette France and the Museum of Contemporary Art Chicago, to name a few. Siobahn's 'Nine Lives' printed dishtowel in collaboration with Anthropologie also made an appearance on Judd Apatow's latest, comedy series 'Love', currently showing on Netflix, 2016. In June 2016, Siobahns printed silk scarf collection was published in Italian fashion magazine 'MiNT'. SIOBAHN PALMER joined Society6 on September 27, 2012
More
British Artist and Designer Siobahn Palmer began exhibiting her luxury, lifestyle and fashion accessories in 2012 after completing her Bachelors Degree in Surface Design with First class honours from Norwich University of the Arts, specialising in high quality, digitally printed Silk Scarves.
Today, Siobahn continues to gain global notoriety as she draws inspiration from her beautiful surroundings in East Anglia and her travels to create original artwork, premium quality printed textiles and luxury fashion accessories which are all designed, created and finished in Great Britain. Since graduating Siobahn has successfully worked and collaborated with companies from around the world, such as Anthropologie UK & USA, Front Row Society Berlin, Neon Trainers UK, British clothing brand Colvmns and American clothing brand VIDA Voices. Siobahn's artwork and various printed textile products are currently being sold internationally, from small independent boutiques to large, luxury department stores and Art Museums such as Selfridges London, KaDeWe Berlin, Galeries Lafayette France and the Museum of Contemporary Art Chicago, to name a few.
Siobahn's 'Nine Lives' printed dishtowel in collaboration with Anthropologie also made an appearance on Judd Apatow's latest, comedy series 'Love', currently showing on Netflix, 2016.
In June 2016, Siobahns printed silk scarf collection was published in Italian fashion magazine 'MiNT'.
SIOBAHN PALMER joined Society6 on September 27, 2012.