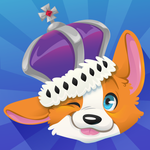 Dog Save the Queen
The Queen of England has been kidnapped by aliens! Help this loyal corgi, Sir Woofs-a-lot III, save Her Royal Majesty. Run, jump and bark your way through the boroughs of London and the wilds of the English countryside in this side-scrolling adventure. Battle alien brain slugs to restore order within the kingdom and "Dog Save the Queen". The Prototype is available for free download on Google Play, with more updates and expansions coming soon: https://play.google.com/store/apps/details?id=air.com.academyart.dstq&hl=en Dog Save the Queen joined Society6 on November 30, 2013
More
The Queen of England has been kidnapped by aliens! Help this loyal corgi, Sir Woofs-a-lot III, save Her Royal Majesty. Run, jump and bark your way through the boroughs of London and the wilds of the English countryside in this side-scrolling adventure. Battle alien brain slugs to restore order within the kingdom and "Dog Save the Queen".
The Prototype is available for free download on Google Play, with more updates and expansions coming soon: https://play.google.com/store/apps/details?id=air.com.academyart.dstq&hl=en
Dog Save the Queen joined Society6 on November 30, 2013.
Dog Save the Queen's Store
9 result
Filter