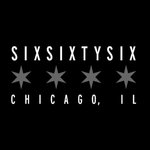 sixsixtysix
I am Brendt Petersen, a Creative Director / Art Director from Chicago, Illinois, who has worked in the creative industry for over a decade. My past experience includes working for design and advertising agencies on campaigns for both on and offline media. I am passionate about design, music and technology and draw my inspiration from many facets of pop culture. I am fascinated with the cultural zeitgeist, and combined with my love of traveling, it has exposed me to many new ideas and experiences. These have been the driving forces in shaping my aesthetic as an innovative and versatile designer. Currently I am in the process of a "Design of the Day" 365 project, producing a new piece every day for a year. The posters for sale here are reflective of that work and have each been produced in a single day. To view the full 365 in progress, you can like me on FaceBook at: http://www.facebook.com/brendt.petersen or follow me on twitter at: http://www.twitter.com/sixsixtysix sixsixtysix joined Society6 on March 9, 2013
More
I am Brendt Petersen, a Creative Director / Art Director from Chicago, Illinois, who has worked in the creative industry for over a decade.
My past experience includes working for design and advertising agencies on campaigns for both on and offline media.
I am passionate about design, music and technology and draw my inspiration from many facets of pop culture. I am fascinated with the cultural zeitgeist, and combined with my love of traveling, it has exposed me to many new ideas and experiences. These have been the driving forces in shaping my aesthetic as an innovative and versatile designer.
Currently I am in the process of a "Design of the Day" 365 project, producing a new piece every day for a year. The posters for sale here are reflective of that work and have each been produced in a single day.
To view the full 365 in progress, you can like me on FaceBook at: http://www.facebook.com/brendt.petersen or follow me on twitter at: http://www.twitter.com/sixsixtysix
sixsixtysix joined Society6 on March 9, 2013.