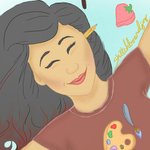 SketchboardJoy
I'm a watercolor and sketch artist from the PNW, just starting to learn the digital art thing. As a 90's kid from the coast my inspiration comes from animation I grew up with, beachy things, and characters I've come to love. Vintage styles and classic movies are also favorites. I have been sketching my whole life and am just now getting into this beautiful online world of art. Find me on Facebook (sketchboardjoyart) and Instagram (@sketchboardjoy). http://society6.com?curator=sketchboardjoy SketchboardJoy joined Society6 on November 19, 2015
More
I'm a watercolor and sketch artist from the PNW, just starting to learn the digital art thing. As a 90's kid from the coast my inspiration comes from animation I grew up with, beachy things, and characters I've come to love. Vintage styles and classic movies are also favorites.
I have been sketching my whole life and am just now getting into this beautiful online world of art. Find me on Facebook (sketchboardjoyart) and Instagram (@sketchboardjoy).
http://society6.com?curator=sketchboardjoy
SketchboardJoy joined Society6 on November 19, 2015.