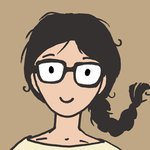 sketchburns
I have a dream. The dream to share joy. To share hope. To share smiles. To give something to the people. To sow something unto the world that the people can see. Starting small in order to dream bigger. [2 Cor 1:4] My name is Bernadette Seigfried aka sketchburns. I love drawing and painting since I was a child. I love being creative and expressing my inside through art. I believe that we can communicate with people through art. Art can change something. It changes me and my dream is to change people's lives. HOMEPAGE: http://sketchburns.jimdo.com FACEBOOK: https://www.facebook.com/sketchburns REDBUBBLE: http://www.redbubble.com/people/sketchburns BLOG: http://brifarile.blogspot.co.at Copyright Notice: No portion of sketchburns work may be downloaded, reproduced, published, copied, manipulated, linked or transferred electronically or used in any way without the artist's written permission. sketchburns joined Society6 on November 16, 2014
More
I have a dream. The dream to share joy. To share hope. To share smiles. To give something to the people. To sow something unto the world that the people can see. Starting small in order to dream bigger. [2 Cor 1:4]
My name is Bernadette Seigfried aka sketchburns. I love drawing and painting since I was a child. I love being creative and expressing my inside through art. I believe that we can communicate with people through art. Art can change something. It changes me and my dream is to change people's lives.
HOMEPAGE: http://sketchburns.jimdo.com FACEBOOK: https://www.facebook.com/sketchburns REDBUBBLE: http://www.redbubble.com/people/sketchburns BLOG: http://brifarile.blogspot.co.at
Copyright Notice: No portion of sketchburns work may be downloaded, reproduced, published, copied, manipulated, linked or transferred electronically or used in any way without the artist's written permission.
sketchburns joined Society6 on November 16, 2014.