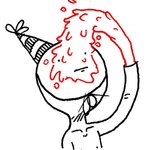 Nate Galbraith
Sketchnate is an illustrator from Canada. His graphics could be described as an absurdist parody of pop culture, especially focusing on subjects like death, money, and advertising. For more examples, or to view Nate's selection of digital books and handmade artworks, see nathangalbraith.com Nate Galbraith joined Society6 on September 19, 2012
More
Sketchnate is an illustrator from Canada. His graphics could be described as an absurdist parody of pop culture, especially focusing on subjects like death, money, and advertising.
For more examples, or to view Nate's selection of digital books and handmade artworks, see nathangalbraith.com
Nate Galbraith joined Society6 on September 19, 2012.