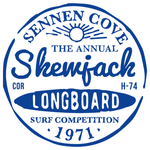 SKEWJACK
Established in 1971, Skewjack was the first original, definitive British surf camp based in Sennen Cove, Cornwall. Renowned for perfect surf and wild partying, Skewjack was a paradise for escapism for those who sought the magical formula of pure madness, love affairs and golden adventures. Over time, the elaborate stories from Skewjack became a phenomenon attracting people from far and wide to stay at the surf camp that had become legendary around Great Britain. At only 1 pound a night and '2 girls to every guy' guaranteed, thousands of 'Skewies' passed through the surf camp leaving a path of destruction as they rode the waves of the free life. SKEWJACK joined Society6 on November 19, 2014
More
Established in 1971, Skewjack was the first original, definitive British surf camp based in Sennen Cove, Cornwall.
Renowned for perfect surf and wild partying, Skewjack was a paradise for escapism for those who sought the magical formula of pure madness, love affairs and golden adventures.
Over time, the elaborate stories from Skewjack became a phenomenon attracting people from far and wide to stay at the surf camp that had become legendary around Great Britain.
At only 1 pound a night and '2 girls to every guy' guaranteed, thousands of 'Skewies' passed through the surf camp leaving a path of destruction as they rode the waves of the free life.
SKEWJACK joined Society6 on November 19, 2014.