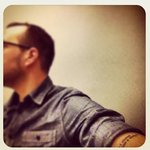 skmonteiro
Scott K. Monteiro is a Freelance Illustrator and Comic Book Artist. He currently splits his time between Cambridge, Massachusetts and Burlington, Vermont. Professionally he has designed CD's, flyers, and merch for several bands, and had artwork featured in multiple magazines and retail locations. He has had artwork in galleries across New England, including several solo shows and his work has been featured in multiple music venues in and around Boston, MA. He is currently working on three separate comic book/graphic novel projects including "Gutless", "Days On End", and "The Line", with writer Liam Boyle. skmonteiro joined Society6 on August 9, 2012
More
Scott K. Monteiro is a Freelance Illustrator and Comic Book Artist. He currently splits his time between Cambridge, Massachusetts and Burlington, Vermont. Professionally he has designed CD's, flyers, and merch for several bands, and had artwork featured in multiple magazines and retail locations. He has had artwork in galleries across New England, including several solo shows and his work has been featured in multiple music venues in and around Boston, MA.
He is currently working on three separate comic book/graphic novel projects including "Gutless", "Days On End", and "The Line", with writer Liam Boyle.
skmonteiro joined Society6 on August 9, 2012.