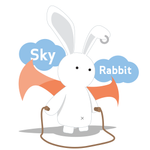 Sky Rabbit
Kun-I Chang, aka Sky Rabbit, is an illustrator and animation director. A moviegoer, toy collector, comic reader, and outdoors lover, he sky dives for idea inspiration and uses house cleaning for relaxation. Kun-I creates cute and playful illustration in his animation project. All of which has strong personality and intriguing content. To see more work from Sky Rabbit, please go to www.skyrabbit.net Sky Rabbit joined Society6 on March 7, 2015
More
Kun-I Chang, aka Sky Rabbit, is an illustrator and animation director. A moviegoer, toy collector, comic reader, and outdoors lover, he sky dives for idea inspiration and uses house cleaning for relaxation.
Kun-I creates cute and playful illustration in his animation project. All of which has strong personality and intriguing content.
To see more work from Sky Rabbit, please go to www.skyrabbit.net
Sky Rabbit joined Society6 on March 7, 2015.
Laptop Sleeves by Sky Rabbit
12 results
Filter