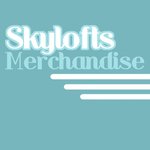 Skylofts Merch
'Lo there! My name is Caroline and I am currently working in art school majoring in dramatic writing (not what you guessed, right?). The thing is, I love drawing and creating art so I thought what would be a better way to make some extra cash than selling my work? Take a look around. I hope you like it! I also have a store over on RedBubble (http://www.redbubble.com/people/skylofts) featuring some items that aren't for sale over here, so be sure to check it out! Skylofts Merch joined Society6 on April 3, 2012
More
'Lo there! My name is Caroline and I am currently working in art school majoring in dramatic writing (not what you guessed, right?). The thing is, I love drawing and creating art so I thought what would be a better way to make some extra cash than selling my work? Take a look around. I hope you like it!
I also have a store over on RedBubble (http://www.redbubble.com/people/skylofts) featuring some items that aren't for sale over here, so be sure to check it out!
Skylofts Merch joined Society6 on April 3, 2012.
Captain America X96_Laptop Skin by Skylofts Merch
156 results
Filter