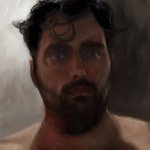 Smabeeart
This page is a collection of works created by Stephen Mabee. A professional artist in the business of entertainment and fantasy illustration. I love creating images that make me and others around me feel excitement! I enjoy all creating stories with images and carrying the viewer to places outside the norm. Any Question about my work? feel free to contact me threw email. -Stephen Smabeeart joined Society6 on April 3, 2013
More
This page is a collection of works created by Stephen Mabee. A professional artist in the business of entertainment and fantasy illustration.
I love creating images that make me and others around me feel excitement! I enjoy all creating stories with images and carrying the viewer to places outside the norm.
Any Question about my work? feel free to contact me threw email.
-Stephen
Smabeeart joined Society6 on April 3, 2013.