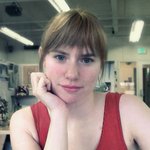 Allie Fritsch
Allie Fritsch is an optimistic pessimist who's finishing her BFA in Illustration at Maryland Institute College of Art. Raised in the rural parts of New Jersey, she had the fortune of growing up surrounded by tall trees, spacious fields, and plenty of roadkill. Unsurprisingly, nature and wildlife have become her biggest artistic inspirations. Her specialties are in watercolor and digital illustration, and she's been known to dabble in analytic graphics from time to time. Allie Fritsch joined Society6 on October 29, 2011
More
Allie Fritsch is an optimistic pessimist who's finishing her BFA in Illustration at Maryland Institute College of Art. Raised in the rural parts of New Jersey, she had the fortune of growing up surrounded by tall trees, spacious fields, and plenty of roadkill.
Unsurprisingly, nature and wildlife have become her biggest artistic inspirations. Her specialties are in watercolor and digital illustration, and she's been known to dabble in analytic graphics from time to time.
Allie Fritsch joined Society6 on October 29, 2011.