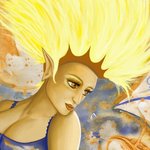 SmoonFlowerArt
My name is Sarah Natalie Bloch. I am a German based Artist & Illustrator. I love drawing and painting more than anything, I am passionate about energy art, coulorful fairies, angels and other spirits. Facebook: https://www.facebook.com/smoonflowerart Instagram: https://instagram.com/smoonflowerart More of me and my work can be found at my German website http://www.smoonflowerart.com You can also reach me on info@smoonflowerart.com SmoonFlowerArt joined Society6 on March 29, 2016
More
My name is Sarah Natalie Bloch. I am a German based Artist & Illustrator. I love drawing and painting more than anything, I am passionate about energy art, coulorful fairies, angels and other spirits.
Facebook: https://www.facebook.com/smoonflowerart Instagram: https://instagram.com/smoonflowerart
More of me and my work can be found at my German website http://www.smoonflowerart.com You can also reach me on info@smoonflowerart.com
SmoonFlowerArt joined Society6 on March 29, 2016.