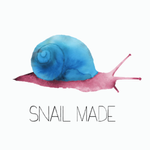 Snail Made
Hello! I am a young artist, from Sydney, Australia, just starting to share my work. It would be great to have some cool quote here or something deep and meaningful about my work but basically I get an idea and try and put it on paper. I don't really think I stick to a particular theme but I do favour portraits. Animal or human. I particular enjoy playing around with celebrity portraits. Showing well known people in a different light, a different angle, something more personal but at the same time honouring whatever it is that has made them great, wether that is to me or other people. I am always on the search for rare animals you never see or hear of. I try to capture their beauty and personalities in a fun way I imagine people can enjoy in their homes. I basically get inspired by almost everything around me and whatever may be popular at the time. Im not one to follow trends but i certainly love to get ideas from them. I love the idea that some of my work may become a special little piece in someone's home. I have been a fan of this site for a few years now and I'm just really happy to be apart of it. Thank you for taking the time to see my work and get to know a little bit about me. cheers :) Snail Made joined Society6 on March 6, 2016
More
Hello! I am a young artist, from Sydney, Australia, just starting to share my work.
It would be great to have some cool quote here or something deep and meaningful about my work but basically I get an idea and try and put it on paper. I don't really think I stick to a particular theme but I do favour portraits. Animal or human.
I particular enjoy playing around with celebrity portraits. Showing well known people in a different light, a different angle, something more personal but at the same time honouring whatever it is that has made them great, wether that is to me or other people.
I am always on the search for rare animals you never see or hear of. I try to capture their beauty and personalities in a fun way I imagine people can enjoy in their homes. I basically get inspired by almost everything around me and whatever may be popular at the time. Im not one to follow trends but i certainly love to get ideas from them.
I love the idea that some of my work may become a special little piece in someone's home.
I have been a fan of this site for a few years now and I'm just really happy to be apart of it. Thank you for taking the time to see my work and get to know a little bit about me.
cheers :)
Snail Made joined Society6 on March 6, 2016.