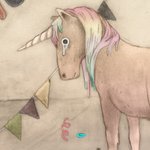 Alice Socal (FAQ)
Hi, I'm a italian comic drawer and illustrator based in Hamburg (Germany). I like to draw banana. If you like to know more about me look at my tumblr and website! See you there! ♫Thank you for visiting my page!♫ http://go-faq-yourself.tumblr.com/ http://www.alicesocal.de/ Alice Socal (FAQ) joined Society6 on August 13, 2012
More
Hi, I'm a italian comic drawer and illustrator based in Hamburg (Germany). I like to draw banana. If you like to know more about me look at my tumblr and website! See you there!
♫Thank you for visiting my page!♫
http://go-faq-yourself.tumblr.com/ http://www.alicesocal.de/
Alice Socal (FAQ) joined Society6 on August 13, 2012.