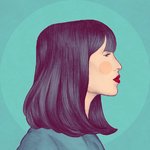 Sofia Azevedo
My name is Sofia Azevedo, I'm a 23 year old self-taught traditional and digital artist from Portugal. I am extremely curious and passionate about life, beautiful things and creativity. For all business, booking and professional opportunities please send inquiries to sofiaazevedoillustration@gmail.com :: You can find me here :: http://www.facebook.com/sofiaazevedoillustration http://www.behance.net/sofiaazevedo http://sofiaazevedoillustration.tumblr.com Sofia Azevedo joined Society6 on April 16, 2013
More
My name is Sofia Azevedo, I'm a 23 year old self-taught traditional and digital artist from Portugal. I am extremely curious and passionate about life, beautiful things and creativity.
For all business, booking and professional opportunities please send inquiries to sofiaazevedoillustration@gmail.com
:: You can find me here :: http://www.facebook.com/sofiaazevedoillustration http://www.behance.net/sofiaazevedo http://sofiaazevedoillustration.tumblr.com
Sofia Azevedo joined Society6 on April 16, 2013.