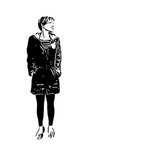 JessGCreative
Jess G is a mom of 3 boys, a daydreamer and lover of all things creative (photography, graphic design, mixed media, painting, leatherwork) The creative process continues to grow through chasing sunsets, catching dew on petals, climbing mountains and leaving 30 tabs open at all times. Always stay a kid at heart. Thanks for stopping by! JessGCreative joined Society6 on July 30, 2016
More
Jess G is a mom of 3 boys, a daydreamer and lover of all things creative (photography, graphic design, mixed media, painting, leatherwork) The creative process continues to grow through chasing sunsets, catching dew on petals, climbing mountains and leaving 30 tabs open at all times. Always stay a kid at heart.
Thanks for stopping by!
JessGCreative joined Society6 on July 30, 2016.