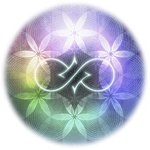 Solstice Son
As an artist, I go by the moniker, Solstice Son. The name pays tribute to the day I was born, a multifaceted metaphor and archetypal representation of my place in this life and beyond. My focus and intention is to be a forever-expanding zenith of creative expression. Although this ambition is rarely met, it is a path full of lessons I've chosen to face during this odyssey. My work varies as micro-expressions, stepping stones of a grand journey. An ever-present illumination in the dark void. An eternal cycle, always returning from oblivion. The spark of an idea, an inspiration, a way of being. To bring light to all moments. Our unified consciousness, an endless coalescence of all vibratory states. The apex of all time and energy. The apotheosis of you and I. -Solstice Son Solstice Son joined Society6 on May 31, 2014
More
As an artist, I go by the moniker, Solstice Son. The name pays tribute to the day I was born, a multifaceted metaphor and archetypal representation of my place in this life and beyond. My focus and intention is to be a forever-expanding zenith of creative expression. Although this ambition is rarely met, it is a path full of lessons I've chosen to face during this odyssey.
My work varies as micro-expressions, stepping stones of a grand journey. An ever-present illumination in the dark void. An eternal cycle, always returning from oblivion. The spark of an idea, an inspiration, a way of being. To bring light to all moments. Our unified consciousness, an endless coalescence of all vibratory states. The apex of all time and energy. The apotheosis of you and I.
-Solstice Son
Solstice Son joined Society6 on May 31, 2014.