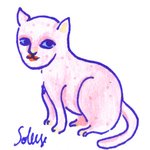 Solveig
Hej (Hi)! My name is Solveig and I am from a little Island somewhere in Scandinavia. Today I live in the hills of Tuscany, living the italian dream with my prince. Mostly everything is drawn on paper. You can find more of my drawings here ---> Redbubble store: https://www.redbubble.com/people/sol-disegni-?asc=u Threadless store: https://solveig.threadless.com/ --- instagram is sol.v.eig - Happy hearts to you! Solveig joined Society6 on September 1, 2014
More
Hej (Hi)! My name is Solveig and I am from a little Island somewhere in Scandinavia. Today I live in the hills of Tuscany, living the italian dream with my prince. Mostly everything is drawn on paper.
You can find more of my drawings here --->
Redbubble store: https://www.redbubble.com/people/sol-disegni-?asc=u
Threadless store: https://solveig.threadless.com/
--- instagram is sol.v.eig
Solveig joined Society6 on September 1, 2014.