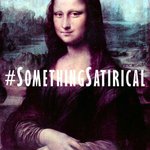 #SomethingSatirical
Welcome and thank you for visiting my shop. Here you can find prints that are the perfect collaboration of fine art and contemporary life that will add character to any room. If you have any questions just drop me a note and I will be glad to help you in any way I can. Thank you so much for your business and support. All designs ©2015 #SomethingSatirical // Proudly New Zealand Made. #SomethingSatirical joined Society6 on January 10, 2015
More
Welcome and thank you for visiting my shop. Here you can find prints that are the perfect collaboration of fine art and contemporary life that will add character to any room.
If you have any questions just drop me a note and I will be glad to help you in any way I can. Thank you so much for your business and support.
All designs ©2015 #SomethingSatirical // Proudly New Zealand Made.
#SomethingSatirical joined Society6 on January 10, 2015.