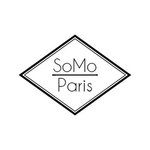 SoMo Paris
It all started on a freezing 2004 winter morning in NYC. As I was walking along the Bowery, I started shooting street art. It became a real passion, and my camera turned out to be my new favorite sidekick. With thousands of photos from all over the world, I'd always wanted to give them a second life, until one day, the SoMo concept popped out of my head. After hours of brainstorming, numerous coffees and days of work, I created my first collection and launched SoMo Paris. I'm now glad to share my work with you ! SoMo Paris joined Society6 on August 29, 2016
More
It all started on a freezing 2004 winter morning in NYC. As I was walking along the Bowery, I started shooting street art. It became a real passion, and my camera turned out to be my new favorite sidekick.
With thousands of photos from all over the world, I'd always wanted to give them a second life, until one day, the SoMo concept popped out of my head.
After hours of brainstorming, numerous coffees and days of work, I created my first collection and launched SoMo Paris.
I'm now glad to share my work with you !
SoMo Paris joined Society6 on August 29, 2016.
SoMo Paris's Store
30 results
Filter