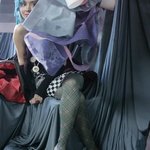 Sonia Enache
My name is Sonia Enache, I am a fashion designer, graduated from University of Art and Design in Bucharest. I like to create repeats, vector graphics and optical illusion designs for fashion and homeware. My inspiration comes from nature, travelling, architecture, tactile experiences and by observing life from an artistic perspective. Contact me here: soniaenachedesign@gmail.com Personal blog: https://soniaenachedesigns.wordpress.com/ Facebook Page: https://www.facebook.com/soniaenache2/ Instagram: https://www.instagram.com/soniaenache/ Thank you for passing by! Sonia Enache joined Society6 on July 7, 2015
More
My name is Sonia Enache, I am a fashion designer, graduated from University of Art and Design in Bucharest. I like to create repeats, vector graphics and optical illusion designs for fashion and homeware. My inspiration comes from nature, travelling, architecture, tactile experiences and by observing life from an artistic perspective.
Contact me here:
soniaenachedesign@gmail.com
Personal blog: https://soniaenachedesigns.wordpress.com/
Facebook Page: https://www.facebook.com/soniaenache2/
Instagram: https://www.instagram.com/soniaenache/
Thank you for passing by!
Sonia Enache joined Society6 on July 7, 2015.