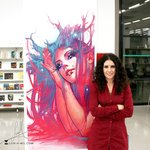 Sonia Matas (Sonia MS)
Sonia Matas is a Fine Arts graduate who is currently working as freelance illustrator. Passionate about colors, nature, universe and feminine sensuality. "The two most important days in your life are the day you are born and the day you find out why." ― Mark Twain Sonia Matas (Sonia MS) joined Society6 on December 5, 2013
More
Sonia Matas is a Fine Arts graduate who is currently working as freelance illustrator. Passionate about colors, nature, universe and feminine sensuality.
"The two most important days in your life are the day you are born and the day you find out why." ― Mark Twain
Sonia Matas (Sonia MS) joined Society6 on December 5, 2013.