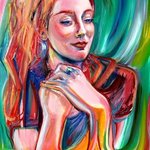 Sonja Violette
Sonja Violette is an artist from Vancouver, B.C. She uses various forms of media: oil paints, water colours, and ink on paper, to create colourfully dense, intense movement. To contact Sonja about purchasing one of her art pieces while supporting her future work, please send an e-mail to the address below: sonjaviolette@gmail.com www.sonjaviolette.com Thank you for your interest. Sonja Violette joined Society6 on February 16, 2014
More
Sonja Violette is an artist from Vancouver, B.C.
She uses various forms of media: oil paints, water colours, and ink on paper, to create colourfully dense, intense movement.
To contact Sonja about purchasing one of her art pieces while supporting her future work, please send an e-mail to the address below:
sonjaviolette@gmail.com www.sonjaviolette.com
Thank you for your interest.
Sonja Violette joined Society6 on February 16, 2014.