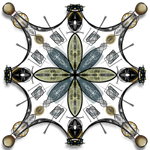 soobsart
Hi all - I call myself a research artist.
My main medium is animation and my work weaves art, ideas, philosophy, complexity science, story-telling, and user experience into videos that put sense-making into service. My passion for exploring the tensions between theory and practice informs my use of narrative, metaphor, motion, and music to document the insights and puzzles of groups learning together. In collaboration with clients, I facilitate teams and organizations in making sense of both the frustration and fulfillment of collaborative work by articulating and deepening shared knowledge.
It was my growing fascination with the complexity of individual, group, and organizational change efforts that inspired me return to graduate school to learn about learning through the lenses of neuroscience, biology, adult development, and social psychology. In the subsequent years, I have collected a treasure trove of theoretical models and frameworks as well as generative practices that inform my animations and my explorations with groups.
I do quite a bit of pro-bono work in social justice issues and this merch site is one way to keep that sustainable.
Read more