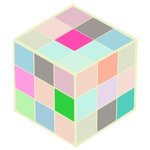 Sophia Ladeni
Pattern-Motif and Texture creator. Sophia Ladeni (Sculptor/Visual Artist), born in 1992 in Athens, Greece. Currently on her last year of studies in Athens School of Fine Arts. Write to me or send me a pic if you bought some of my work :) Or ask for custom work here email: sophialdn@hotmail.com Connect with me: Facebook Artist Page: https://www.facebook.com/sophialadeni/ Twitter: SophiaLadeni Instagram: sophialadenishop or sophialadeni Sophia Ladeni joined Society6 on April 28, 2016
More
Pattern-Motif and Texture creator.
Sophia Ladeni (Sculptor/Visual Artist), born in 1992 in Athens, Greece. Currently on her last year of studies in Athens School of Fine Arts.
Write to me or send me a pic if you bought some of my work :) Or ask for custom work here email: sophialdn@hotmail.com
Connect with me: Facebook Artist Page: https://www.facebook.com/sophialadeni/ Twitter: SophiaLadeni Instagram: sophialadenishop or sophialadeni
Sophia Ladeni joined Society6 on April 28, 2016.