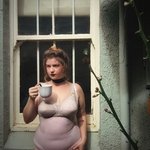 sophiecaligariphotography
Hi there! I'm Sophie, a Melbourne-based photographer with a heavy interest in photography, vintage culture, art history and alternative photographic processes. With a dream to be a specialist in all processes predating roll film, I live and breathe old world culture spanning from clothing to cameras and cinema. For my full portfolio head over to www.sophiecaligariphotography.com sophiecaligariphotography joined Society6 on April 22, 2016
More
Hi there! I'm Sophie, a Melbourne-based photographer with a heavy interest in photography, vintage culture, art history and alternative photographic processes. With a dream to be a specialist in all processes predating roll film, I live and breathe old world culture spanning from clothing to cameras and cinema.
For my full portfolio head over to www.sophiecaligariphotography.com
sophiecaligariphotography joined Society6 on April 22, 2016.