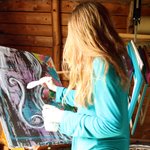 SophieLeBlanc
Works currently featured as prints and merchandise are acrylic paintings created from 2010-2012. They are results from a series of experimentations and improvisations with colours and motifs. For more information on my work as an artist and designer, please visit my website: www.sophieleblancvisualmedia.com SophieLeBlanc joined Society6 on November 28, 2013
More
Works currently featured as prints and merchandise are acrylic paintings created from 2010-2012. They are results from a series of experimentations and improvisations with colours and motifs.
For more information on my work as an artist and designer, please visit my website: www.sophieleblancvisualmedia.com
SophieLeBlanc joined Society6 on November 28, 2013.
Bags by SophieLeBlanc
9 results
Filter