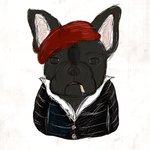 Sophisticrits
The inspiration for Sophisticrits originated from my distinguished feline friend, Converse Frederick. Despite his furry nakedness, he exudes the confidence of a proper gentleman dressed to the nines.
I imagined a world where all animals had such swagger and dapper style! The only reasonable thing to do of course was to create an entire world of sophisticated critters for all to enjoy.
I use a variety of materials and processes including India ink, dip pens, watercolor and Photoshop. I capture each personality in a quirky, lovable style. A custom critter bio is written with each archival quality, Giclee print.
The goal is to provide affordable art, jewelry and custom pet portraits, for all critter-loving folks. I hope that these quirky creatures bring as much joy to your homes as they have to mine.
Read more
Sophisticrits's Store
Filter