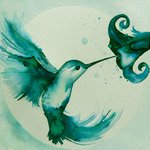 SoulBird Art
SoulBirdArt 'Magical Art from a Soul Bird's Heart' "Roberta Orpwood works from her private studio within the South West of London. Her delicate watercolour paintings are influenced by her love of natural beauty; the female figure, the Spirit of nature and the Souls of animals. Her creations are predominantly figurative expressing beauty beyond the limits of the physical body. They represent a Divine feminine that resides within all of us and her compositions are often inspired by the visions she receives during her meditation practice, therefore portraying an element of a magical fantastical nature and a Soulful Spirit. It is clear she has influences that come from the decorative Art Nouveau movement, where you will see her use of beautiful flowing lines along with a celebration of the female form within her works." If you are interested in following the progress of my latest works, please check out ~ www.facebook.com/SoulBirdArt My website is still under construction... but do have a peek ~ www.soulbirdart.com And if you would like to visit my Etsy shop home page ~ www.etsy.com/shop/uk/SoulBirdArt Or hop on over to my other shop Folksy - www.folksy.com/shops/SoulBirdArt With Love! SoulBird Art joined Society6 on June 9, 2014
More
SoulBirdArt
'Magical Art from a Soul Bird's Heart'
"Roberta Orpwood works from her private studio within the South West of London. Her delicate watercolour paintings are influenced by her love of natural beauty; the female figure, the Spirit of nature and the Souls of animals. Her creations are predominantly figurative expressing beauty beyond the limits of the physical body. They represent a Divine feminine that resides within all of us and her compositions are often inspired by the visions she receives during her meditation practice, therefore portraying an element of a magical fantastical nature and a Soulful Spirit. It is clear she has influences that come from the decorative Art Nouveau movement, where you will see her use of beautiful flowing lines along with a celebration of the female form within her works."
If you are interested in following the progress of my latest works, please check out ~ www.facebook.com/SoulBirdArt
My website is still under construction... but do have a peek ~ www.soulbirdart.com
And if you would like to visit my Etsy shop home page ~ www.etsy.com/shop/uk/SoulBirdArt
Or hop on over to my other shop Folksy - www.folksy.com/shops/SoulBirdArt
With Love!
SoulBird Art joined Society6 on June 9, 2014.