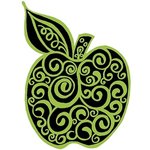 Sour Apple Art
Born in Southern California, DeeAnna Nevins is a self taught artist that discovered her love of art at an early age. She immersed herself in drawing and painting during her adolescent years and found success in high school by winning a National Award for portrait work and gaining a following among family and friends. After a 30 year hiatus to raise her children, DeeAnna retired to the Great Northwest with her husband Eric and has renewed her passion for art.. She loves time spent with family and friends as well as creating art on their deck overlooking Clear Lake. Returning to the world of art has been a journey of exploration. she currently enjoys working in Pen & Ink and Pointilism, and dabbling in acrylics and watercolors. She creates for the sheer joy of creating and finds satisfaction in finishing a project. She also finds art to be extremely therapeutic as she deals with chronic health issues that confine her to the home. DeeAnna is highly influenced by Anns Doodles and Maahy as well as being mentored by the sublime artists, Susy Soulies of Susy Q Designs and Carolyn Boettner. Having strong familial ties to the South, DeeAnna originally chose 'Sweet Peach Art' as the title of her art business until a friend told her 'You ain't no sweet peach! You're more like a sour apple!' DeeAnna will miss her friend... And thats how Sour Apple Art was born. Please note that all images are the copyright of the artist, © DeeAnna Nevins. All Rights Reserved. Copying, altering, displaying, distributing and/or selling any image without prior written consent from the artist is strictly prohibited. Sour Apple Art joined Society6 on January 17, 2015
More
Born in Southern California, DeeAnna Nevins is a self taught artist that discovered her love of art at an early age. She immersed herself in drawing and painting during her adolescent years and found success in high school by winning a National Award for portrait work and gaining a following among family and friends.
After a 30 year hiatus to raise her children, DeeAnna retired to the Great Northwest with her husband Eric and has renewed her passion for art.. She loves time spent with family and friends as well as creating art on their deck overlooking Clear Lake.
Returning to the world of art has been a journey of exploration. she currently enjoys working in Pen & Ink and Pointilism, and dabbling in acrylics and watercolors. She creates for the sheer joy of creating and finds satisfaction in finishing a project. She also finds art to be extremely therapeutic as she deals with chronic health issues that confine her to the home.
DeeAnna is highly influenced by Anns Doodles and Maahy as well as being mentored by the sublime artists, Susy Soulies of Susy Q Designs and Carolyn Boettner.
Having strong familial ties to the South, DeeAnna originally chose 'Sweet Peach Art' as the title of her art business until a friend told her 'You ain't no sweet peach! You're more like a sour apple!'
DeeAnna will miss her friend...
And thats how Sour Apple Art was born.
Please note that all images are the copyright of the artist, © DeeAnna Nevins. All Rights Reserved. Copying, altering, displaying, distributing and/or selling any image without prior written consent from the artist is strictly prohibited.
Sour Apple Art joined Society6 on January 17, 2015.
Sour Apple Art's Store
25 results
Filter