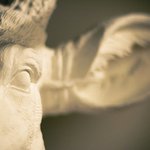 Katie Scully
10% of proceeds from the sales of my prints will be donated to PAWS Chicago, the midwest's largest no-kill shelter. PAWS finds homes for over 5,800 homeless pets each year, and provides nearly 18,000 free or low-cost spays and neuters for animals in low-income communities. I'll be running the Chicago Marathon again for PAWS this year. If you'd like to learn more and donate directly to PAWS, please visit my donation page here: paws.convio.net/goto/katie2016 Katie Scully joined Society6 on September 10, 2014
More
10% of proceeds from the sales of my prints will be donated to PAWS Chicago, the midwest's largest no-kill shelter. PAWS finds homes for over 5,800 homeless pets each year, and provides nearly 18,000 free or low-cost spays and neuters for animals in low-income communities.
I'll be running the Chicago Marathon again for PAWS this year. If you'd like to learn more and donate directly to PAWS, please visit my donation page here:
paws.convio.net/goto/katie2016
Katie Scully joined Society6 on September 10, 2014.
Katie Scully's Store
292 results
Filter