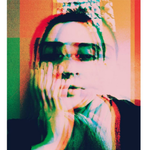 Sasha Pacek
I'm a former Montserrat College of Art student majoredin painting and art history, receiving my BFA in the spring of 2015. I'm primarily an abstract painter exploring the relationships between color and form and creating visceral, organic imagery to express physicality of material. Along with my artistic experience I also have experience in gallery and museum assistant curatorial work and retail gallery work. http://sashapacek.tumblr.com/ Sasha Pacek joined Society6 on August 4, 2014
More
I'm a former Montserrat College of Art student majoredin painting and art history, receiving my BFA in the spring of 2015. I'm primarily an abstract painter exploring the relationships between color and form and creating visceral, organic imagery to express physicality of material.
Along with my artistic experience I also have experience in gallery and museum assistant curatorial work and retail gallery work.
http://sashapacek.tumblr.com/
Sasha Pacek joined Society6 on August 4, 2014.