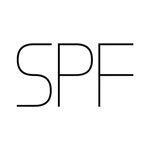 SPF Design Studio
We like to develop emotional and honest design: we believe in simple ideas, which express a poetic value, through sophisticated details or the niceness of a gesture. We works with high passion and expertise, promoting activity that is careful to the needs and issues of the contemporary, but close to tradition. Ours is a form-mindset, focused on creation of "somethings" that can arise an empathic relationship with the "interlocutor", stimulating the design and architecture roles, as interpreters of new contemporary needs. A search of concreteness of ideas, that are attempt to mediate the "creative" process into chaos of absolute self of our time. SPF Design Studio joined Society6 on April 3, 2016
More
We like to develop emotional and honest design: we believe in simple ideas, which express a poetic value, through sophisticated details or the niceness of a gesture.
We works with high passion and expertise, promoting activity that is careful to the needs and issues of the contemporary, but close to tradition. Ours is a form-mindset, focused on creation of "somethings" that can arise an empathic relationship with the "interlocutor", stimulating the design and architecture roles, as interpreters of new contemporary needs. A search of concreteness of ideas, that are attempt to mediate the "creative" process into chaos of absolute self of our time.
SPF Design Studio joined Society6 on April 3, 2016.