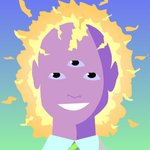 John Gabarron
I'm a fine artist, graphic designer, writer, robot poet, and proud parent of a future bestselling author. When I'm not doing that, I work for a national retailer to support my wicked, wayward lifestyle. I've been to Stonehenge, Tenerife, and two different Austins. Whenever I go for a haircut I ask the stylist to make me younger, thinner, taller, and richer. Not for internal consumption. Your actual mileage may vary. See a physician if symptoms persist. Batteries not included. Long term exposure may cause irritation. Lather, rinse, repeat. Objects in rear view mirror are closer than they appear. Don't feed the animals. Keep off the grass. Free, take one. Side effects may include dizziness, nausea, and spontaneous human combustion. Live free or die. Save the whales. If you don't ask, no one will say yes. John Gabarron joined Society6 on December 10, 2013
More
I'm a fine artist, graphic designer, writer, robot poet, and proud parent of a future bestselling author. When I'm not doing that, I work for a national retailer to support my wicked, wayward lifestyle. I've been to Stonehenge, Tenerife, and two different Austins. Whenever I go for a haircut I ask the stylist to make me younger, thinner, taller, and richer.
Not for internal consumption. Your actual mileage may vary. See a physician if symptoms persist. Batteries not included. Long term exposure may cause irritation. Lather, rinse, repeat. Objects in rear view mirror are closer than they appear. Don't feed the animals. Keep off the grass. Free, take one. Side effects may include dizziness, nausea, and spontaneous human combustion. Live free or die. Save the whales.
If you don't ask, no one will say yes.
John Gabarron joined Society6 on December 10, 2013.