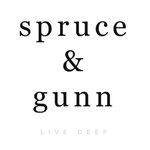 Spruce & Gunn
We're all about living deep and sucking all the marrow out of life. To us living deep means seeking out adventure and cultivating good times. We believe in fresh air, fresh food, quality made goods, and genuine people. We're here to share and hopefully inspire others to cultivate their owns happiness and good times, through whatever that may be, as well as be inspired by other people doing their thing. Our Society6 is a collection of what we consider some our most memorable adventures and photos. We hope that our prints can further inspire you all to get out there and 'get livin'! Spruce & Gunn joined Society6 on December 23, 2014
More
We're all about living deep and sucking all the marrow out of life. To us living deep means seeking out adventure and cultivating good times. We believe in fresh air, fresh food, quality made goods, and genuine people. We're here to share and hopefully inspire others to cultivate their owns happiness and good times, through whatever that may be, as well as be inspired by other people doing their thing.
Our Society6 is a collection of what we consider some our most memorable adventures and photos. We hope that our prints can further inspire you all to get out there and 'get livin'!
Spruce & Gunn joined Society6 on December 23, 2014.
Spruce & Gunn's Store
22 results
Filter