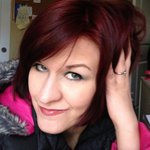 Chrissy Hoff Hudson
Hi! I'm Chrissy, a professional web and graphic designer aspiring to be a real-life starving artist. As a kid, I had a lot of instability in my life - moving 22 times (6 states, 18 cities) before I was even 18. The one thing that I was always clung to was art. I drew, colored, painted, and even sculpted my way to adulthood. Today, I am a Navy wife (hooray for more moving!) and a giant nerd. I love anime, video games, Doctor Who, My Little Pony, Torchwood....pretty much if it's dorky, I love it. I am also an animal lover who actually keeps food in her purse for the birds and squirrels. Website: http://www.chrissyhoff.com Facebook: http://www.facebook.com/squidpeg Twitter: http://twitter.com/squidpeg Pinterest: http://pinterest.com/squidpeg/ Chrissy Hoff Hudson joined Society6 on July 18, 2013
More
Hi! I'm Chrissy, a professional web and graphic designer aspiring to be a real-life starving artist. As a kid, I had a lot of instability in my life - moving 22 times (6 states, 18 cities) before I was even 18. The one thing that I was always clung to was art. I drew, colored, painted, and even sculpted my way to adulthood.
Today, I am a Navy wife (hooray for more moving!) and a giant nerd. I love anime, video games, Doctor Who, My Little Pony, Torchwood....pretty much if it's dorky, I love it. I am also an animal lover who actually keeps food in her purse for the birds and squirrels.
Website: http://www.chrissyhoff.com Facebook: http://www.facebook.com/squidpeg Twitter: http://twitter.com/squidpeg Pinterest: http://pinterest.com/squidpeg/
Chrissy Hoff Hudson joined Society6 on July 18, 2013.