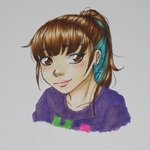 SquishieDragon
I am a 19 year old Copic Marker Certified Instructor who has been creating art for more than 15 years and am now working on launching my art career. I mainly work in pencil, colored pencil and copic marker however I like to challenge myself so my art style changes daily. Some days you will find me drawing manga, other days a realistic portrait and occasionally I work on painting clothing items for cosplay on my Twitch stream. I stream from Monday-Thursday, starting around 3pm CST at http://www.twitch.tv/squishiedragn SquishieDragon joined Society6 on February 11, 2016
More
I am a 19 year old Copic Marker Certified Instructor who has been creating art for more than 15 years and am now working on launching my art career. I mainly work in pencil, colored pencil and copic marker however I like to challenge myself so my art style changes daily.
Some days you will find me drawing manga, other days a realistic portrait and occasionally I work on painting clothing items for cosplay on my Twitch stream. I stream from Monday-Thursday, starting around 3pm CST at http://www.twitch.tv/squishiedragn
SquishieDragon joined Society6 on February 11, 2016.