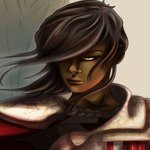 ssst
Hellooo! I'm Nas. I live in the UK with my wonderfully sarcastic partner and our derp faced pet "wolf" named Cloud. I write and draw a whole bunch :D I will be going live to share some drawings with you! You can find my artwork on my website: www.naspeters.com and you can find regular works in progress, updates and screen recordings on my FB page: http://facebook.com/naspeters I am terrible at using twitter, but, I occasionally update there too: http://twitter.com/naspeters You may also find me on: Deviantart: ssst.deviantart.com ssst joined Society6 on October 2, 2012
More
Hellooo! I'm Nas. I live in the UK with my wonderfully sarcastic partner and our derp faced pet "wolf" named Cloud. I write and draw a whole bunch :D I will be going live to share some drawings with you!
You can find my artwork on my website: www.naspeters.com and you can find regular works in progress, updates and screen recordings on my FB page: http://facebook.com/naspeters
I am terrible at using twitter, but, I occasionally update there too: http://twitter.com/naspeters
You may also find me on: Deviantart: ssst.deviantart.com
ssst joined Society6 on October 2, 2012.