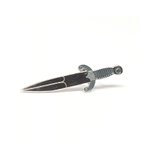 Really, Man?
Really, Man? is a one-woman, Toronto based company that makes pins, patches, prints and clothing.
If you smoked a lot of weed in the 90s and stared at your TV when you weren't listening to your discman, you'll feel at home here. www.reallyman.net
Read more
Really, Man?'s Store
Filter
You are currently on society6.com.