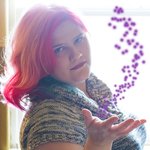 Stacy J. Garrett
Stacy J. Garrett (S. J. Garrett) was made in England but born in Sacramento, California, and like the redwoods of the state, her roots have dug deep. Her destiny as a bard was somewhat inevitable. Little else can explain how she constantly told her mother tall tales so outlandish that she couldn't even get grounded for them. Her mother and grandmother had her reading by age three, and that love of a good story propelled her through so many books that Scholastic Books gave her a medal. At the age of twelve, she picked up a point-and-shoot camera, and her love of telling a story took itself on a new journey as she starting taking photographs no one believed an untrained child could. She entered junior college by age fifteen to study photography, and in the same year, she wrote her first story. She has never looked back. Stacy has seen both good and evil in her life, and her works, like life, have no half measures. Even in fantasy worlds of dragons and faeries, she knows that the constants of real emotion never change. Whether shooting photographs in stark straight black and white or brilliant digital color, or turning out fantastical novels of over a hundred thousand words, she shows an ability to move hearts, engage minds, and take people beyond the borders of reality into another world entirely. Her current haunt is a comfy house in her beloved Sacramento where she wrangles four feline fur-kids and consumes peppermints like mana in order to balance a calendar filled with more creative venues than a sane person should realistically undertake. She considers herself extremely blessed to be surrounded by a group of amazing friends and associates who never hesitate to volunteer to do something a little strange for the sake of art, whether it is getting almost naked in a park or dressing up for a steampunk tea party. She holds an Associate of Arts Degree in Fine Arts Photography, and will graduate in June 2016 with her Bachelor of Fines Arts in Photography. Stacy J. Garrett joined Society6 on December 5, 2014
More
Stacy J. Garrett (S. J. Garrett) was made in England but born in Sacramento, California, and like the redwoods of the state, her roots have dug deep. Her destiny as a bard was somewhat inevitable. Little else can explain how she constantly told her mother tall tales so outlandish that she couldn't even get grounded for them. Her mother and grandmother had her reading by age three, and that love of a good story propelled her through so many books that Scholastic Books gave her a medal. At the age of twelve, she picked up a point-and-shoot camera, and her love of telling a story took itself on a new journey as she starting taking photographs no one believed an untrained child could. She entered junior college by age fifteen to study photography, and in the same year, she wrote her first story. She has never looked back.
Stacy has seen both good and evil in her life, and her works, like life, have no half measures. Even in fantasy worlds of dragons and faeries, she knows that the constants of real emotion never change. Whether shooting photographs in stark straight black and white or brilliant digital color, or turning out fantastical novels of over a hundred thousand words, she shows an ability to move hearts, engage minds, and take people beyond the borders of reality into another world entirely.
Her current haunt is a comfy house in her beloved Sacramento where she wrangles four feline fur-kids and consumes peppermints like mana in order to balance a calendar filled with more creative venues than a sane person should realistically undertake. She considers herself extremely blessed to be surrounded by a group of amazing friends and associates who never hesitate to volunteer to do something a little strange for the sake of art, whether it is getting almost naked in a park or dressing up for a steampunk tea party.
She holds an Associate of Arts Degree in Fine Arts Photography, and will graduate in June 2016 with her Bachelor of Fines Arts in Photography.
Stacy J. Garrett joined Society6 on December 5, 2014.
Stacy J. Garrett's Store
112 results
Filter