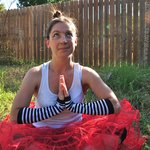 Star Gathering
Anything I create is in response to what I see in the world around me. I can be inspired by a song, a throw away comment, the way a leaf floats down from a branch, a line in a movie. My art often has a whimsical or playful style to it though it is often prompted by deep questions and I find that no matter what I create, it often addresses one underlying theme: the feeling of aloneness many of us carry with us in the world. In my creative expressions, I seek to feel less alone and to blur the edges of aloneness for others. Star Gathering joined Society6 on January 1, 2013
More
Anything I create is in response to what I see in the world around me. I can be inspired by a song, a throw away comment, the way a leaf floats down from a branch, a line in a movie.
My art often has a whimsical or playful style to it though it is often prompted by deep questions and I find that no matter what I create, it often addresses one underlying theme: the feeling of aloneness many of us carry with us in the world.
In my creative expressions, I seek to feel less alone and to blur the edges of aloneness for others.
Star Gathering joined Society6 on January 1, 2013.
Framed Prints by Star Gathering
8 results
Filter
Products

Framed Art Prints