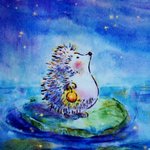 Starry Dreams
Hi, thank you for visiting! I hope these lighthearted items will bright up your day. :) I love to create art that is joyful, relaxing and hopeful. This little store is a way to share my passion, and also help support the community-based art education work I've been devoted to for many years. I hope my art will add to your starry life, and your purchase will help make many others' starry dreams come true. If you are interested in smartphone and laptop wallpaper, as well as downloadable digital files of my art, please visit my Etsy shop: https://www.etsy.com/shop/StarryDreamsArt Find me on social media for more art, giveaways, tutorials and more: https://www.facebook.com/StarryDreamsArt https://www.instagram.com/starrydreams.art/ And I want to give a modest thank-you gift to everyone who makes purchase. Because I don't have access to the information of the purchaser, if you are interested in getting the gift, or just getting in touch with me, please drop me a line here: starrydreams.space at gmail.com. Thank you so much and have a beautiful day! Starry Dreams joined Society6 on November 12, 2016
More
Hi, thank you for visiting! I hope these lighthearted items will bright up your day. :) I love to create art that is joyful, relaxing and hopeful. This little store is a way to share my passion, and also help support the community-based art education work I've been devoted to for many years.
I hope my art will add to your starry life, and your purchase will help make many others' starry dreams come true.
If you are interested in smartphone and laptop wallpaper, as well as downloadable digital files of my art, please visit my Etsy shop: https://www.etsy.com/shop/StarryDreamsArt
Find me on social media for more art, giveaways, tutorials and more: https://www.facebook.com/StarryDreamsArt https://www.instagram.com/starrydreams.art/
And I want to give a modest thank-you gift to everyone who makes purchase. Because I don't have access to the information of the purchaser, if you are interested in getting the gift, or just getting in touch with me, please drop me a line here: starrydreams.space at gmail.com.
Thank you so much and have a beautiful day!
Starry Dreams joined Society6 on November 12, 2016.