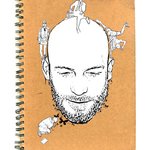 starvin artist
WHO IS STARVIN ARTIST? Pencils sharpened and paints at the ready, Starvin Artist calmly stepped unto the scene in 2005. An artistic nom-de-plume, that has naturally blossomed into an creative practice and philosophical approach to work. "Starving artist, is a term with immediate connotations of a person sacrificing material well being in order to focus on their artwork. Similarly I devote myself to producing innovative works that engage and provoke thought, or inspire and excite experience, as well as, entertaining and answering those inner voices and questions from within myself. Whether for personal, exhibition, commercial or educational purposes, an important aspect of my practice is the freedom to follow my heart. I care little for my creative pursuits being pigeon-holed. As an alternative, I refuse to be tied to a particular sector and instead work instinctively, choosing my commissions because I relate to them. I admit that I am selective, or perhaps simply fussy, but I prefer an asssignment in which each party benefits. A venture where I feel I am the right artist for the job... a project then becomes a meeting of souls as you will. A self taught and cultivated lone wolf who loves an opportunity to explore new contexts and perspectives: whether through the fostering of collaborations, in scale, the approach to materials or the ideas themselves. Whatever the medium I always strive to create distinctive work of international standing and impact. Travelling where the project dictates, i have worked, exhibited and taught throughout europe, representing locally and creating internationally." starvinartist 2014 starvin artist joined Society6 on May 25, 2010
More
WHO IS STARVIN ARTIST?
Pencils sharpened and paints at the ready, Starvin Artist calmly stepped unto the scene in 2005. An artistic nom-de-plume, that has naturally blossomed into an creative practice and philosophical approach to work.
"Starving artist, is a term with immediate connotations of a person sacrificing material well being in order to focus on their artwork. Similarly I devote myself to producing innovative works that engage and provoke thought, or inspire and excite experience, as well as, entertaining and answering those inner voices and questions from within myself.
Whether for personal, exhibition, commercial or educational purposes, an important aspect of my practice is the freedom to follow my heart. I care little for my creative pursuits being pigeon-holed. As an alternative, I refuse to be tied to a particular sector and instead work instinctively, choosing my commissions because I relate to them. I admit that I am selective, or perhaps simply fussy, but I prefer an asssignment in which each party benefits. A venture where I feel I am the right artist for the job... a project then becomes a meeting of souls as you will.
A self taught and cultivated lone wolf who loves an opportunity to explore new contexts and perspectives: whether through the fostering of collaborations, in scale, the approach to materials or the ideas themselves. Whatever the medium I always strive to create distinctive work of international standing and impact.
Travelling where the project dictates, i have worked, exhibited and taught throughout europe, representing locally and creating internationally."
starvinartist 2014
starvin artist joined Society6 on May 25, 2010.
starvin artist's Store
3 results
Filter