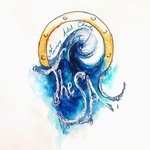 The Starving Artists Charity
The Staving Artist Charity - We're a local movement of artists who won't live with poverty, and we work together to end this injustice for us. The Starving Artist's Charity aims to give underfunded young artists the financial ability to maintain their artistic practice. Our group of artists consists of varied practices that have all been neglected due to underfunding. This can stop! If the ability to create is still alive, so should the funding for young creatives who yearn to release that creativity into the public sphere. Our extensive market research has provided us with the details of what remains popular throughout Fine Art History and today's commercial market and that's what we have moulded the Starving Artists Charity around. Seascapes and the colour Blue still remain to be the most popular painting subject and colour preference in Art and commercial marketing. We bring you a tailored selection of merchandise that appeal to this research and it's thriving selling ability. Profits will go directly to the art practices available to read in our Artist's Biography section. Join us in the creative revolution! The Starving Artists Charity joined Society6 on March 2, 2016
More
The Staving Artist Charity - We're a local movement of artists who won't live with poverty, and we work together to end this injustice for us.
The Starving Artist's Charity aims to give underfunded young artists the financial ability to maintain their artistic practice. Our group of artists consists of varied practices that have all been neglected due to underfunding. This can stop! If the ability to create is still alive, so should the funding for young creatives who yearn to release that creativity into the public sphere.
Our extensive market research has provided us with the details of what remains popular throughout Fine Art History and today's commercial market and that's what we have moulded the Starving Artists Charity around. Seascapes and the colour Blue still remain to be the most popular painting subject and colour preference in Art and commercial marketing. We bring you a tailored selection of merchandise that appeal to this research and it's thriving selling ability. Profits will go directly to the art practices available to read in our Artist's Biography section.
Join us in the creative revolution!
The Starving Artists Charity joined Society6 on March 2, 2016.