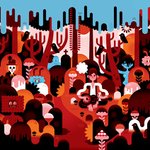 Steebz
Steebz lives, works and plays in KHUAN monastery, hidden in the Haspengouwer foothills. He shares a home-built laptop, some inks and brushes, a tea pot and a couple of guitars with his fellow monks, and tries to makes the most of them.
Read more
00c7e383-821a-4283-a410-eb92b9154082

Popular

6ac9626e-3085-4421-a05c-e0bed9fc8915

All
You are currently on society6.com.