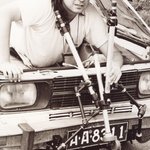 Stefan Kutsarov
Hey, thank you for visiting! My name is Stefan Kutsarov. I'm from Bulgaria. My job is cinematographer(DOP).In my portfolio i have few feature and documentary films. My great passion is photography! My pictures are photographed on film and then scanned. I'll be glad if you like. If my work induce your interest, you can look at my personal website: www.stefankutsarov.com Stefan Kutsarov joined Society6 on June 27, 2014
More
Hey, thank you for visiting!
My name is Stefan Kutsarov. I'm from Bulgaria. My job is cinematographer(DOP).In my portfolio i have few feature and documentary films. My great passion is photography!
My pictures are photographed on film and then scanned. I'll be glad if you like. If my work induce your interest, you can look at my personal website: www.stefankutsarov.com
Stefan Kutsarov joined Society6 on June 27, 2014.
Stefan Kutsarov's Store
21 results
Filter