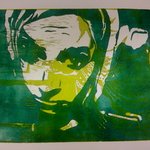 Stephanie Atchley Fine Art
Philadelphia, Pennsylvania based Fine Artist. Focus in photography, collagraph printmaking and ink and pen drawings/paintings. I play with visual contrast between a photograph and a drawing. I look for the underlying stories in trees and find the life that comes from nature. There is peace that comes with the bare branches of a tree grasping to life-- I try to find that peace and translate it the way I feel it. "The key is that you nurture the desire of students to make art that reflects the ethics and values that are important to them." Dodds Stephanie Atchley Fine Art joined Society6 on January 23, 2014
More
Philadelphia, Pennsylvania based Fine Artist. Focus in photography, collagraph printmaking and ink and pen drawings/paintings.
I play with visual contrast between a photograph and a drawing. I look for the underlying stories in trees and find the life that comes from nature. There is peace that comes with the bare branches of a tree grasping to life-- I try to find that peace and translate it the way I feel it.
"The key is that you nurture the desire of students to make art that reflects the ethics and values that are important to them." Dodds
Stephanie Atchley Fine Art joined Society6 on January 23, 2014.
Stephanie Atchley Fine Art's Store
39 results
Filter