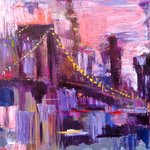 Stephanie Jornov
My work is an articulation of the relationships between colors, spatial energy and the harmony and chaos that can be created by these elements joining forces. Drawing inspiration from landscapes and urban surroundings, these abstracted forms embody experiences ranging from standing at a quiet shore to losing yourself in the pique of rush hour. The kinetic energy or serenity of my milieus in their simplified forms conveys an environmental familiarity that anyone can relate to. By simplifying and accentuating these atmospheres, it allows the colors and shapes to interact naturally and give one the sense that they have been here before. I love to paint in bold rich colors with lots of texture. I also love Rock & Roll and the 70's. Stephanie Jornov joined Society6 on September 30, 2013
More
My work is an articulation of the relationships between colors, spatial energy and the harmony and chaos that can be created by these elements joining forces. Drawing inspiration from landscapes and urban surroundings, these abstracted forms embody experiences ranging from standing at a quiet shore to losing yourself in the pique of rush hour. The kinetic energy or serenity of my milieus in their simplified forms conveys an environmental familiarity that anyone can relate to. By simplifying and accentuating these atmospheres, it allows the colors and shapes to interact naturally and give one the sense that they have been here before.
I love to paint in bold rich colors with lots of texture. I also love Rock & Roll and the 70's.
Stephanie Jornov joined Society6 on September 30, 2013.
Stephanie Jornov's Store
23 results
Filter