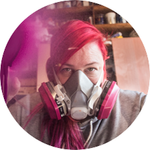 Stephanie Rond
Stephanie Rond is a street artist whose colorful and feminist work can be seen on walls around the world, both inside and out. The purpose of her artwork is to bring people to the cause of equality and social justice and ultimately change minds by enlightening people through her art. Stephanie is an award winning artist based in Columbus, Ohio. www.stephanierond.com Stephanie Rond joined Society6 on January 12, 2018
More
Stephanie Rond is a street artist whose colorful and feminist work can be seen on walls around the world, both inside and out. The purpose of her artwork is to bring people to the cause of equality and social justice and ultimately change minds by enlightening people through her art. Stephanie is an award winning artist based in Columbus, Ohio.
www.stephanierond.com
Stephanie Rond joined Society6 on January 12, 2018.
Stephanie Rond's Store
15 results
Filter